Hey Guys!
Vanilla Here.
And yes, you read it right. I really mean
vegetarian
wellingtons. I know you have heard of the famous Gordon Ramsay beef wellingtons and such but I am no eater of beef, but at the same time I do feel like there can be creative ways to display wellingtons.
A Beef Wellington is a preparation of filet steak coated with pâté and duxelles, which is then wrapped in puff pastry and baked. So to make it vegetarian, I have done some clever substitutions.
I do want to highlight I am not much of a genius and this recipe was inspired by looking through endless photos of portobellos on pintrest. I have always loved british food but I do find it very difficult to obtain or enjoy the cuisine where I live. So, today I will be sharing to you my recipe for these gorgeous portobello wellingtons with a balsamic stuffing and avocado pate.
To mimic the filet steak, I decided to use the caps of Portobellos mushrooms. They are large mushrooms with an intense meaty and umami flavour. And all I do is to scoop out the gills of the mushrooms till it becomes a delicate shell and to cook the scooped out mushroom in some herbs and balsamic vinegar to make my version of a duxelle.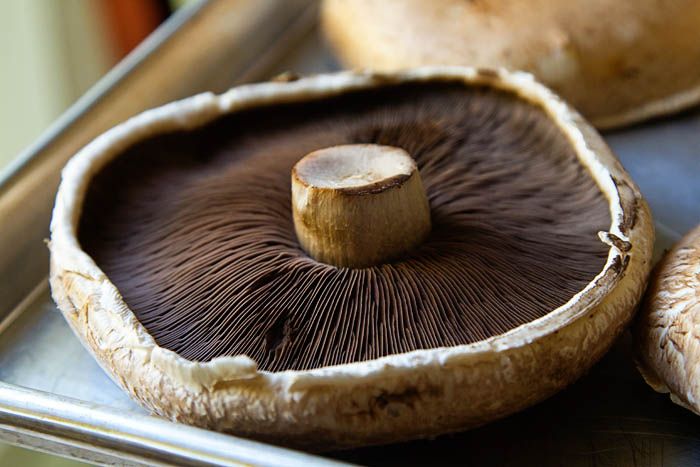 To mimic the traditional pate served inside the delicate puff pastry, I decided to mashing some avocados and mixing it with simple seasonings to give the creamy and luscious texture.
And for the puff pastry, you can always use the shop brought one or if you are up for the challenge and have an entire day free, you can make your own. Unfortunately, where I live I really could not find pre made puff pastry and I barely had time, so I decided to cheat my way by making some shortcrust pastry. This is NOT the traditional way but I was okay with it considering the fact I switched up almost everything in the original recipe.


Ingredients Required:
For Shortcrust Pastry:
1. 2.5 cups plain/all purpose flour
2. 0.5 cup butter
3. Approx. 1/3 cup cold water
4. salt
For Avocado Pate:
1. 2 avocados
2. Salt and pepper
3. 1.5 tsp ginger powder
For balsamic filling:
1. scooped out 'gills' from 3 portobello mushrooms ; minced
2. 1 medium onion; diced
3. 2 cloves of garlic ; diced
4. 4 sprigs of spring onion ; sliced
5. 2 tbsp balsamic vinegar
6. salt and pepper
7. fresh/dried parsley [I used dried, but its better to use fresh]
Procedure
1. Make the shortcrust pastry by rubbing cold cubes of butter into the flour until a breadcrumb consistency is formed.
2. Add salt to the dry mix and make a well.
3. Add cold water little by little and form the dough.
4. Chill the dough in the fridge for atleast 30 minutes
[Vanillan Tip: If you have premade puff pastry, you can skip these steps and use the pastry instead.]
5. To make the filling: Add some olive oil onto a pan and fry the diced onions and garlics.
6. Fry the onions and garlics until they are soft and add the scooped out gills from the portebello mushrooms.
7. Fry till fragrant and add balsamic vinegar, salt, pepper and the parsley.
8. Fry for 3 minutes and add the spring onions.
9. turn off the heat and cover the filling.
10. To make the pate; scoop out avocados
11. Add the ginger powder, salt and pepper to the scooped avocados
12. Mash the scooped avocados into a smooth consistency
13. Assemble the wellington by rolling the pastry to cover the portobello. Spread the avocado pate in the interior of the portobello. Add the filling into the portobello until its full
14. Add the portobello on the pastry and cover it (I did it unsuccessfully haha)
15. Bake at 180 degree Celsius for 22 minutes
16. Slice and serve
I hope you guys like this recipe and give it a try. I'm so sorry it took me so long to release this recipe. Until the next time, keep your ice cream cones dripping!!
Find me!:
Instagram: @vanilliandynamicss